Tai Chi Body Mechanics for Bodywork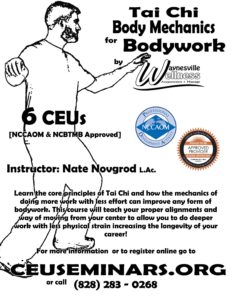 [Efficient Body Mechanics for Bodywork]
6 CEUs
9 am – 4:00 pm
Cost:  $140
Instructor: Nate Novgrod L.Ac.
For Acupuncturists & Massage TherapistsNCCAOM & NCBTMB Approved
This is not your typical Tai Chi course. You will learn small exercises from Tai Chi but we will not be doing a lot of form work. The focus of this class is how to directly and quickly apply the principles of Tai Chi to bodywork and massage. You will spend most of the class working on each other on treatment tables. This course will teach you the proper body mechanics to perform bodywork without hurting yourself. The principles of Tai Chi will be covered and how to use them to maintain proper alignment and movement to create the maximum amount of pressure and work with the minimum amount of effort! These concepts can be incorporated into your practice immediately and will make performing 6-8 hours of massage vastly easier on you and your body.