Mountain Region Medical Reserve Corps Acupuncture Training
8 CEUS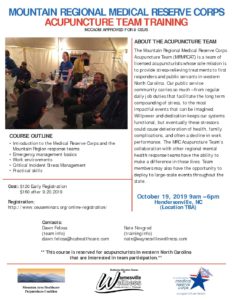 9 am – 6 pm
**NCCAOM approved, For Licensed Acupuncturists Only**
This course will prepare L.Ac.s to work as a volunteer with the Mtn Region Medical Reserve Corps Acupuncture Team. This course is multifaceted and will cover the role of the Medical Reserve Corps, the scope of treatment for emergency responders, and an introduction to emergency management as well as what role acupuncture can play in assisting the emergency responders in dealing with stress and trauma from traumatic events.
This course will cover the NADA 5 needle protocol as well as other protocols utilizing auricular acupuncture for treating stress, tauma and other related disorders. We will review the anatomy of the ear and discuss important auricular point locations. We will cover research that investigates the efficacy of auricular acupuncture for these conditions. We will discuss choosing appropriate points for the treatment of first responders for the stress and trauma they experience in their daily job performance. We will be practicing auricular acupuncture on each other and / or volunteers from the first responder community.
This is a required course for volunteering to provide onsite treatments as part of the Mountain Region Medical Reserve Corps Acupuncture Team.