Course Descriptions
Check out our YouTube channel for clips from past seminars!
https://www.youtube.com/channel/UCvw21SDHFd90eywWBpREcPg
Tui Na 101: Chinese Massage Techniques [8 CEUs] 8 am – 5:30 pm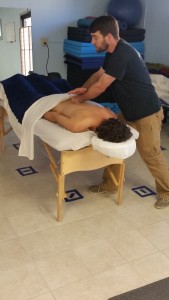 Cost: $150 [Early Registration Discount available]
Instructor: Nate Novgrod L.Ac.
For Acupuncturists & Massage Therapists
NCCAOM & NCBTMB Approved
This seminar will introduce the basic theory and practice of a traditional system of Tui Na [Chinese massage]. The essential hand techniques will be covered as well as the opening sequence of the Tai Yang breakdown. The aim of this seminar is to give practitioners techniques that can be utilized in their practice immediately. Open to all levels.
Cost: $150 [Early Registration Discount available]
Instructor: Nate Novgrod L.Ac.
For Acupuncturists & Massage Therapists
NCCAOM & NCBTMB Approved
It is recommended that you have taken Tui Na 101 before taking this course but not required. Part of the begining of this seminar will be a review of the techniques taught in Tui Na 101. This seminar will focus on teaching Tui Na techniques utilized for working on the extremities as well as the neck. It will also cover Tui Na from various positions such as seated, prone and supine.
Cost: $120 [Early Registration Discount available]
Instructor: Nate Novgrod L.Ac.
For Acupuncturists & Massage Therapists
NCCAOM & NCBTMB Approved
This seminar will focus in on the techniques used to move joints through their range of motion as well as stretch overly tight areas. The stretches and mobilizations for each major joint will be covered. Both passive and active joint mobilizations and stretches will be discussed. These techniques will add another tool to your arsenal when dealing with musculoskeletal issues and allow you to assist your patients in increasing range of motion and reducing pain.
Instructor: Nate Novgrod L.Ac.
For Acupuncturists & Massage Therapists
NCCAOM & NCBTMB Approved
Cupping [myofascial decompression] and Gua Sha [myofascial scrubbing] are two integral parts of Chinese medicine that are easily accessible to anyone. Basic theory of injury and chronic pain will be covered as well as when it is appropriate and contraindicated to perform these therapies. Explanation of the basic tools and methods of each therapy will also be taught. This course will be an in depth hands on course allowing practitioners to walk away with the ability to integrate these therapies into their practice right away. Both techniques are vital for acupuncturists to fully treat the body and are wonderful ways for massage therapists to save their hands from excessive overuse. Both therapies increase circulation dramatically and are wonderful was of treating stagnation and chronic pain as well as muscle tightness and spasm, trigger points, and inflammation. These techniques are commonly practiced by lay people in China as they are handed down from parent to child as effective ways to treat oneself and ones family. This course is open to anyone but is geared towards acupuncturists and massage therapists.
Cost: $120 Early Registration / $140 After
Instructor: Nate Novgrod L.Ac.
For Acupuncturists & Massage Therapists
NCCAOM & NCBTMB Approved
In this course you will learn the fundamentals of Acupressure channel theory. Rather than focusing on memorizing acupressure points this course will focus on learning the pathways for each channel system and the area of influence for each one. You will also learn how to treat pain and other musculoskeletal disorders with Acupressure. This course is a hands on course that will focus on palpation as a means of diagnosis and treatment. This course will allow you to begin incorporating Acupressure into your practice safely and effectively.
Cost:  $120 Early Registration / $140 After
Instructor: Nate Novgrod L.Ac.
For Acupuncturists & Massage Therapists
This is not your typical Tai Chi course. You will learn small exercises from Tai Chi but we will not be doing a lot of form work. The focus of this class is how to directly and quickly apply the principles of Tai Chi to bodywork and massage. You will spend most of the class working on each other on treatment tables. This course will teach you the proper body mechanics to perform bodywork without hurting yourself. The principles of Tai Chi will be covered and how to use them to maintain proper alignment and movement to create the maximum amount of pressure and work with the minimum amount of effort! These concepts can be incorporated into your practice immediately and will make performing 6-8 hours of massage vastly easier on you and your body.
Cost: $80 Early Registration
Instructor: Nate Novgrod L.Ac.
For Acupuncturists & Massage Therapists
NCCAOM & NCBTMB Approved
In this course you will learn about the primary and secondary ingredients of massage lotions and creams as well as what each ingredient will do to the lotions workability, thickness, absorption, and glide. You will learn proportions to create an individualized lotion just the way you like it as well as learning how to incorporate different ingredients into specialized lotions. Making lotion yourself saves money as well as allowing you to know and control exactly what goes into the product you have your hands in all day. Avoid unnecessary chemicals and preservatives, excessive use of stabilizers, and fillers and make the lotion you like easily! All materials provided.
***Note: This course is valid for NC massage therapists for renewal credit as well as NCBTMB national certification renewal. It is also valid for NCCAOM national certification renewal for acupuncturists. This course is apparently not valid for NC acupuncturist license renewal as the NCALB has decided it doesn't pertain to Chinese medicine enough, despite the NCCAOM clearly viewing as relevant.
_______________
Gua Sha: Scraping for Wind [3 CEUs]
2 pm – 5  pm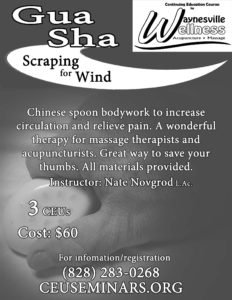 Cost: $60
Instructor: Nate Novgrod L.Ac.
For Acupuncturists & Massage Therapists
NCCAOM & NCBTMB Approved
Gua Sha, also called spoon massage, is a dermal friction technique used by a variety of medicinal cultures around the world. The technique is used to move stagnant blood from the tissue so that it can be perfused with fresh blood. Shown to dramatically increase the microcirculation within the tissue this technique can be used for pain, trauma, chronic stiffness, as well as bruises and skin conditions. This course will introduce you to the basic tools and techniques for this wonderful modality as well as provide you with the underlying theory and practice to know when to apply this modality. A wonderful seminar for Acupuncturists as well as Massage therapists looking for yet another tool in there toolbox!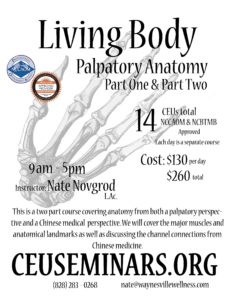 _______________
Living Body: Palpatory Anatomy Part 1 & 2  [7 CEUs each, 14 CEUs total]
This course will cover the major musculoskeletal anatomy of the body from a Chinese medical perspective. You will learn what channel system or systems each muscle is associated with as well as how to affect each with bodywork and Chinese medicine modalities. You will experience this information in a palpatory manner to root these ideas in hands on experience. We will walk through each area of the body and cover all of the major muscles of the body in such a way that you can immediately apply this information to your practice  This class will review the origins, insertions, and actions or the major muscles while learning more advanced information about how to palpate each as well as what channel systems influence them.
_______________

The Face of Emotions: Emotions, Expression, and Chinese Medicine Part One & Part Two [8 CEUs each, 16 CEUs total]
This course is an unusual blend of Western science and Chinese medicine.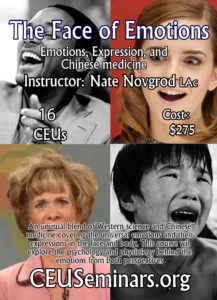 We will explore both sides of the emotions and how they are expressed. This course will cover facial anatomy and expressions that are scientifically proven to be universal and connected to specific emotions. We will then discuss how these movements correlate with Chinese views of the emotions and their expression within the body. We will cover what agrees and disagrees between the different perspectives as well as how to use one to strengthen the other.  Additionally, we will cover how to incorporate these ideas into treatments for your patients. If you have ever thought about gaining a deeper understanding of emotions, how the body and face express them, or how Chinese medicine views the emotions, this is a class for you!
_______________
Kinetic Chain Meridian Technique [formerly Lotus Method Level One] [16 CEUs]
with Ross Duncan LMBT
Kinetic Chain Meridian Technique is a bodywork modality that uses the twenty meridian system developed by Chinese medicine to guide treatment and management of orthopedic pain and dysfunction.  These lines accurately describe pathways kinetic energy is generated and transferred through the body to create functional movements.   Multiple muscle groups and other anatomical features are crossed and connected by a single meridian.  Because of this, pain can be treated both locally and distal to the sensation, which makes this method particularly useful clinically and gives the MT a great amount of freedom in treatment.  This concept helps to pinpoint the causes of difficult and elusive chronic pain cases and to correct them.  It is an attempt to present useful technical knowledge from the study of Traditional Chinese Medicine without mysticism and from a strictly medical point of view.
This class will equip the student with the tools and knowledge to treat pain and discomfort in a medical setting with traditional Chinese medicine techniques.  The student who takes this class will learn new ways muscles and joints work together to create complex whole body movements, and how to efficiently provide pressure to the client using this knowledge.  The student will also develop touch sensitivity skills which will help them quickly find and treat pain with the correct amount of pressure for the individual client and situation. This course  hopes to provide greater experiential understanding of functional anatomy
Potential Upcoming Course Topics
Less Thumbs, More Money – A unique approach to spreading out the wear and tear of doing bodywork by utilizing a wide variety of body parts and techniques for bodywork. This class will change how you do bodywork and help to prolong your bodywork career.
Sanitization & Safety: Contagious Disease Prevention – This course will cover safety and sanitization protocols for treatment rooms, equipment, and tools as well as covering infections disease information to make you better able to work with patients without spreading illness through your office.
Ethics Made Easy – This course will make the process of fulfilling your ethics requirements/hours painless and dare I say enjoyable. This course uses comic relief and a whimsical approach to deal with the touchy subjects surrounding patient/client interaction and relationships, money, and the reality of hands on medicine.